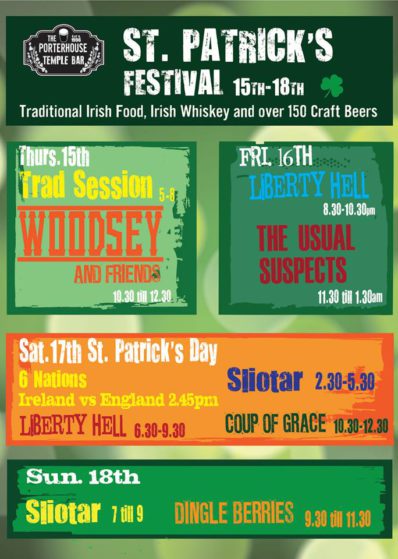 Happy St. Patrick's day!
St. Patrick's Day
Once again it is that time of the year, on St. Patrick's day our dear old Dublin town turns green. The streets of Temple Bar will be packed with thousands of tourists trying to get that "real Irish pub" experience. But if it is a real Celtic band you are looking for, Sliotar will be in the Porterhouse from 2.30pm to 6 pm, not playing the cliche ballads that will pour out of every other pub in town, but our own mix of modern Celtic music. Oh yeah, and we might just end up sampling a few real Irish beers from the Porterhouse menu as well 😉
Hope you guys are having a great St. Patrick's day, where ever you might be celebrating it. And don't forget to drink responsibly 😉 Happy St. Patricks day to you all from Des, Ray, and J.P.