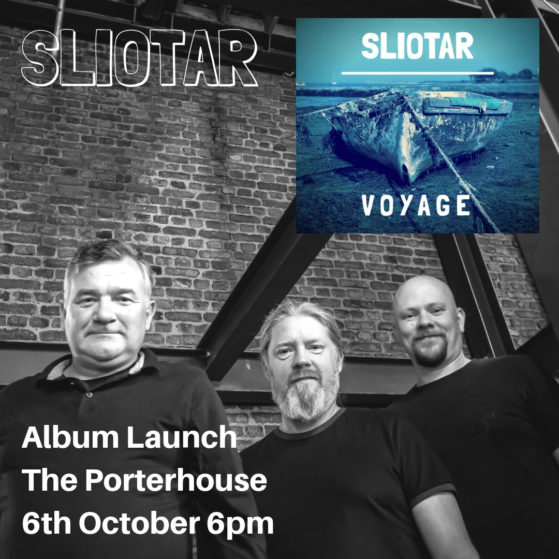 Voyage album launch
It took me a bit longer to get to this blog post than I thought. My computer decided to break down just a few days before I headed on holidays. But now I am back, recharged and got a lend of a temporary laptop, while mine (hopefully) gets fixed. The week of our Voyage album launch is here! This Saturday the 6th of October 6 pm we will gather at our home venue The Porterhouse here in Dublin to raise a glass or two for the end of one chapter and the beginning of another. And of course, you all are invited.
We have talked about the new album a bit in the previous blog posts here on our website. But let me just repeat myself a bit by saying this is the one album we are the proudest. It somehow captures the essence of Sliotar better than ever before. This is largely due to the great production and recording work Tomas Somr put into it. We recorded the album in his studio in Odense in Denmark. It was a very intense, but enjoyable week we spent recording the music. And then Tom put in the hours, days and weeks to mix it.
The album will officially hit the distribution on Saturday, but you can already either download it or order the CD with its beautiful package full of stories and photographs from our webshop HERE. And if you do so, you are supporting us directly and helping us get one step closer to the next tour.
We really hope you can make it into the Porterhouse this Saturday. The show time will be 8.30 pm. But as I mentioned above, join us for a drink or two before the show. And if you cannot make it, please share this blog post with anybody you know might be in Dublin or could make the trip. We don't have the massive advertising budgets of the major labels, so we rely on you guys to spread the word. And don't forget to keep it Celtic 😉
J.P. from Sliotar