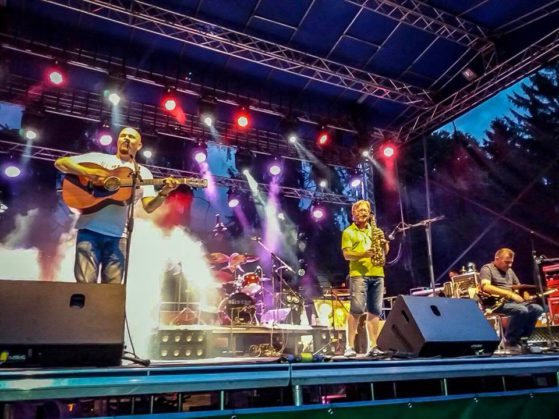 Sliotar Tour Update 2
Wow! What a week it has been. I think it is time for the Sliotar Tour Update 2.
So after our show in the Keltska Noc, we headed to Prague. On the way there we stopped for one quiet night in Jihlava. As you guys in the Czech Republic know the D1 is not the nicest of roads, so we decided to break the drive. And as we had not stayed in Jihlava before, this was a nice opportunity to check it out.
To be honest, we were still not in full fighting form from the festival. So we only had a few quiet pints and were in bed by midnight. But we did find a session of some local musicians playing in a small bar on a side street off the main square. And the beers were tasty.
Then on Tuesday, we headed to Prague, where we had a show in the Vagon Klub. And let me just get this out the way first. We played the show with our great friends Hakka Muggies. Hakka Muggies have come a long way since the very first time we saw them. Their new album is fantastic and I am not saying this just because they are friends, but because I believe it is true. They are one of the underestimated Celtic metal bands in Europe that more people need to know about! So do us a favour and check them out HERE.
The show in Vagon Klub was great fun. We had a small technical issue at the very end of the show, but we were running way too close to our cut off time at the club anyway. And the improvised version of Johnny Jump Up that Ray pulled out of his sleeve rocked! Thank you all who came in, danced the night away and bought CDs. We loved the show!
Prague is an amazing city. We had planned to stay another night there, just to have time to go around a bit. But to be honest with you, the heath wiped us out big time. Des got to see some Jazz in the old city. J.P. spent most of the day working on our 2019 tour planning and only got out the room for a long walk after the sun went down and the temperatures dropped just a bit. Ray never left the room.
On Thursday we tackled the dreaded D1 again. We had a great show in Kurim with our friends Tradish, from Denmark. Check them out HERE. We managed to do the drive with a quick coffee break in just 2 hours! That is great going for D1.
It was a very special evening for us as a dier friend of Sliotar Jiri Moravsky Brabec, who traditionally had organised our show in Kurim, passed away a few months ago. The Kurim shows have traditionally been plagued by rain year after year. But this year the sky was clear and the moon was shining over the beautiful Kurim Castle. We could not help but feel like Jiri was watching us from somewhere above. Jiri you will always have a special place in our hearts.
A good friend of ours Jana Vondrušová wrote a beautiful review of the night and it really captures the night perfectly. Check out the review HERE.
And as this was our last show with Tradish this time, we stayed in the castle drinking, chatting and enjoying a delicious cake that was baked for us. There may or may not have been one or two slivovice in Ray and J.P.'s hotel room later… Thanks Tradish. Hopefully, we'll meet soon again.
Now as I write this, we are only a few hours away from our show in Lughnasad, in Nasavrky. We arrived here yesterday and got to enjoy a night at the festival. It was great to see our good friends Bran. Their new lineup is kick ass hot! And let me just say Nasavrky is a stunningly beautiful little town.
Now before I rush off, let me just say this. We are completely blown away by the love we got from you guys on this tour. Every time we get to shake hands with you, have a chat or even a beer together, your kind words have been warming our hearts. Sliotar genuinely has the best fans in the world!
Oh yeah, and one more thing. Tomas Somr has been playing the festival shows with us. Some of you might know that he recorded and produced our new album Voyage (Check out a review HERE) and he joins us for parts of the show. We are having a great time with him.
J.P. from Sliotar